A friend of Tube City Online, knowing that the author is a McKeesport history buff, donated these original color prints. This person would like to remain anonymous.

Unfortunately, after three decades, the donor can no longer remember who the photographer was—only that it was a customer of the donor's store.

If you were the photographer, and can prove it, please come forward—I would be honored to give credit where credit is due.

And make sure to read the story that accompanies these photos, telling the story of McKeesport's most devastating fire.

Flames engulf the roof of the former Famous Department Store at the corner of Fifth Avenue and Market Street, May 21, 1976.

Firefighters from McKeesport and surrounding communities pour water onto the ruins of The Famous. Their efforts were hampered by high winds that fanned the flames and spread the destruction.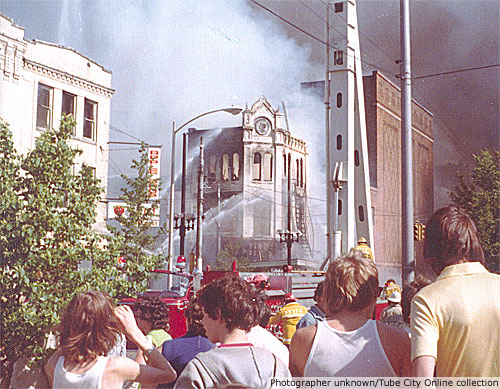 The blaze leapt across Market Street and engulfed Kadar's Men's Wear, at center, and the former Riggs Drug Store. In all, seven buildings would be heavily damaged or destroyed. The western wall of the auditorium of the former Memorial Theater looms above Market Street at center right.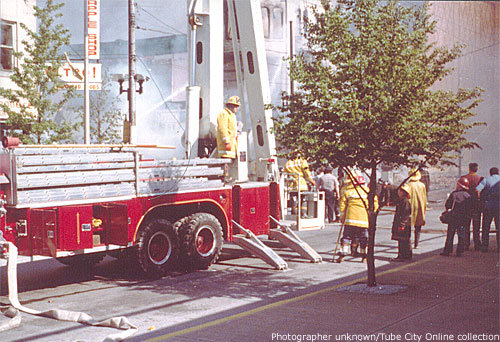 More than 1,000 firefighters from 40 fire companies responded to fight the several fires that erupted simultaneously throughout the city.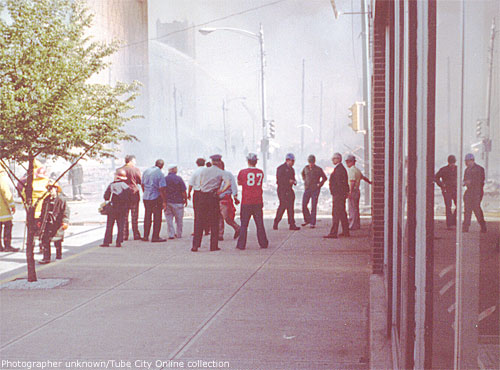 Some residents and property owners wept openly as they viewed the devastation.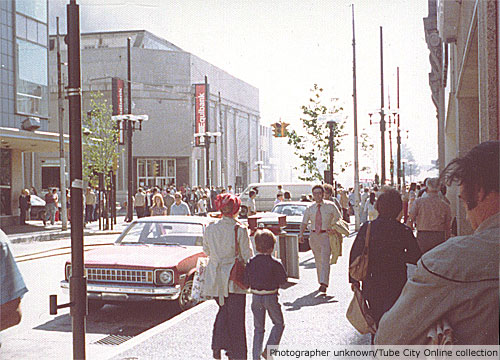 The fire brought life in McKeesport to a virtual standstill. Port Authority buses were stuck in traffic for up to four hours and roadblocks closed the Walnut Street, Lysle Boulevard and West Fifth Avenue approaches to Downtown.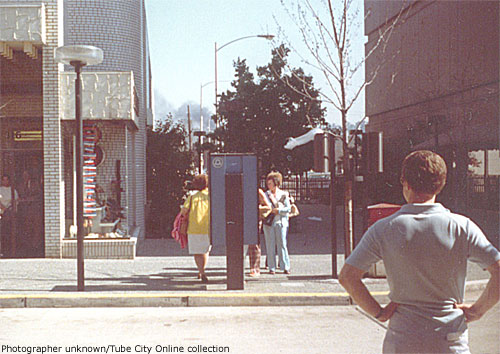 As winds carried burning debris across the city, new fires broke out, destroying houses on Spring, Jenny Lind and Walnut streets. Above, bystanders on Tube Works Alley at Fifth Avenue watch as smoke rises from the other blazes.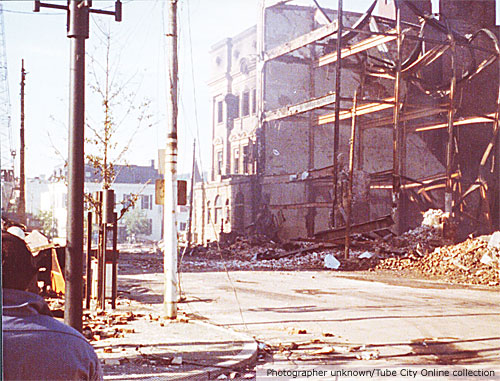 When the smoke cleared, little remained of The Famous, which had once been the largest store in the state outside of Pittsburgh and Philadelphia. The stately Elks Temple, adjacent, was a gutted shell.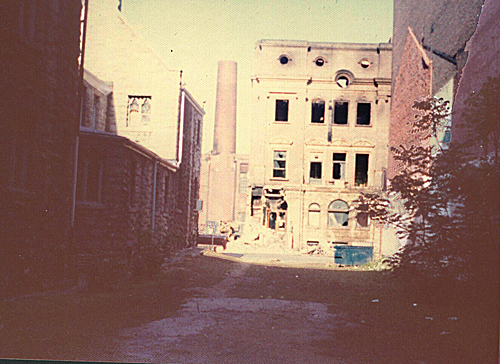 Salvage of the Elks Temple, above center, was deemed futile. The Immanuel Presbyterian Church, part of which is visible at left foreground, survived with smoke and water damage. The former Memorial Theater (south wall shown at right foreground) was less fortunate, and would never re-open.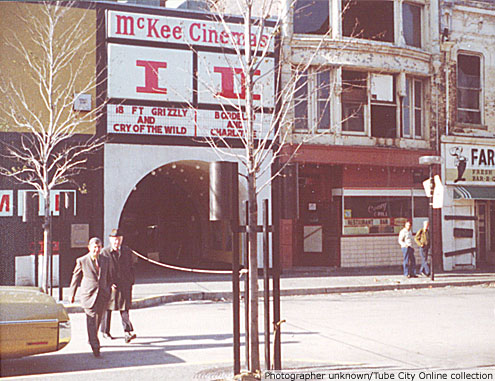 The once-impressive Memorial Theater, a movie palace of the 1920s, had been converted a few years before the fire into a "mini-plex" showing second-run, foreign, and soft-core porno films. It was closed permanently after the blaze and was finally demolished in 1985.